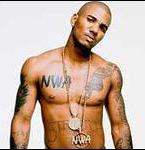 by Ifè Oshun
Dr. Dre has a way of finding real life gangstas for his label, and The Game is no exception. The up-and-comer has lived a crime-filled life on the streets, and he also shoots from the hip in the recording studio. Of all the new rappers coming up in the '05, his is the strongest buzz.

Dr. Dre shared exactly what made him sign the Game to Aftermath.

"What I look for first is just the imaging," Dre said. "I'm watching how he walked through the door, and of course, you have to have that talent. The way he sounded, the delivery he had on the microphone, the lyrics, all of it turned me on. Then our personalities clicked in the studio and there it is. It worked. The talent gets you in and the personality keeps you there."

The Game, who like his labelmate 50 Cent, survived a shooting to later become a professional rapper, has the utmost respect for his mentor.

He even wanted to name his debut after Dre's former groundbreaking group.

"We had the title of the album slated to be N.W.A," Game said, "[because] you know, being from Compton and signed to Dr. Dre and just growing up in that N.W.A melting pot when they were putting it down. We had some legal issues with it and so we had to change the name."