New Rap Hip-hop Releases: July 2005
Here's a listing of rap hip-hop released during July 2005. Also, check our picks for the Top 10 albums of the month.

1. 80 West - Chip on My Shoulder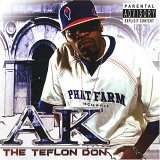 2. A.K. - The Teflon Don - Guests on this set include hardcore rappers C-Bo and Messy Marv.
3. Bigg Tripp - Hazardous Material - East Side records brings us this hardcore gangsta Latin rap.
4. Capone - Pain, Time and Glory - Guests on this debut solo include Akon, Peedie Crakk, C-Murder, Scarface, Raekwon, PTG, Bun-B, Butch Cassidy and Devin The Dude.
5. Consequence - A Tribe Called Consequence - Released on Kanyeís G.O.O.D. Music imprint, this mixtape

follows Consequence's career and re-works classics from A Tribe Called Quest that he was affiliated with.
6. Frayser Boy - Me Being Me - Southern rap boasts guests such as Mike Jones, Lil Wyte, Paul Wall,Chrome and Boogie Man.
7. Hollow Tip - Best of 10 Years - Guests include hardcore heads such as Yukmouth, Messy Marv, C-Bo, Daz Dillinger and more.
8. Hot Karl - The Great Escape - Hot Karl made a name for himself in 1999 by winning LA's KKBT "The Beat" "Roll Call" freestyle battle for 44 days. He signed to Interscope Records who eventually shelved him.
9. Lil Boosie & Pat Lowrenzo - Street Code - Dirty south rap has never sounded grittier and rawer than this collaboration of two of rapís representatives of ghetto goodness. *
10. Lil Boosie & Webbie - Gangsta Muzik [Chopped & Screwed] - In an effort not to be ignored, Lil Boosie does another collaboration with his counterpart in this slowed-down southern-fried album.

1. 50 Cent/Mobb Deep - Outta Control (rmx)
2. Kanye and Jayz - Diamonds (rmx)
3. Tony Yayo - So Seductive
4. Common - ChiCity
5. Eminem and Bizarre: - Hip Hop
6. Jadakiss - Problem Child
7. Paul Wall and Tony Yayo - Sittin Sidewayz (rmx)
8. Little Brother - Lovin It
9. Joe Budden - Fuel
10. Snoop, Kweli, Slim Thug - The Streets

1. Keak Da Sneak - Super Hyphy
2. Bishop Lamont - New West Order
3. Obie Trice ft. The Game - Growin' Up N Da Hood
4. David Banner - Play
5. Mistah F. A. B. feat. Bavgate & - N.E.W. Oakland
6. Boyz N Da Hood - Dem Boyz (rmx) ft. T.I. & Game
7. Mike Jones ft. Ying Yang Twins - Bad
8. Turf Talk ft. The Mossie - 2 Piece
9. T.I. - ASAP
10. Gorilla Pitts ft. Keak Da Sneak - Scrappin'

1. Kanye West ft. Jay-Z - Diamonds (rmx)
2. Missy Elliot ft. Ciara & Fatman - Loose Control
3. Common ft. Kanye West - GO
4. Mike Jones ft. Slim Thug & Paul - Still Tippin
5. Fat Joe ft. Nelly - Get It Poppin
6. Game - 300 Bars (Freestyle)
7. Ying Yang Twins - Wait (rmx)
8. Jay-Z - Dear Summer
9. N.O.R.E. - Chosen 1
10. GURU - Step into the Arena Pt. 2

1. Keak Da Sneak - Super Hyphy
2. Bishop Lamont - New West Order
3. Obie Trice ft. The Game - Growin' Up N Da Hood
4. David Banner - Play
5. Mistah F. A. B. feat. Bavgate & - N.E.W. Oakland
6. Boyz N Da Hood f/ T.I. & Game - Dem Boyz (rmx)
7. Mike Jones ft. Ying Yang Twins - Bad
8. Turf Talk ft. The Mossie - 2 Piece-
9. T.I. - ASAP
10. Gorilla Pitts ft. Keak Da Sneak - Scrappin'

1. Kanye West ft. Jay-Z - Diamonds Are Forever (rmx)
2. Slug & Murs - 20 Answers
3. Royce Da 5í9 - Yeah
4. Game (pro. Dr. Dre) - Hard Liquor
5. Ras Kass - No Love
6. Big Pooh (pro. 9th Wonder) - Scars
7. Trick Trick f. Eminem (pro. Emin - Welcome To Detroit City
8. Mathematics f. Ghostface, Raekwo - Real Nillaz
9. Busta Rhymes f. Eminem (pro. Sco - Iíll Hurt You Remix
10. The Undisputed Truth (Futureshoc - Smiling Faces Sometimes

1. Ying Yang Twins - Wait (rmx)
2. Kanye West - Diamonds
3. Common ft. Kanye West - GO
4. Missy Elliot ft. Ciara & Fatman - Loose Control
5. Memphis Bleek - ft. Boxie - Like That/Infatuated
6. Talib Kweli - Never Been in Love
7. GURU - Step into the Arena Pt. 2
8. Fat Joe ft. Nelly - Get It Poppin
9. Jay-Z - Dear Summer
10. Mike Jones ft. Slim Thug & Paul - Still Tippin